Fifteen years ago Strategic Staffing Solutions decided to go international but where to start. Europe for sure … but where?
S3's founder Cindy Pasky looked to her roots. Her grandparents were from Kaunas, Lithuania, and came to Detroit in 1911. She grew up hearing them speak Lithuanian and cook traditional dishes. She visited the country's capital, Vilnius, for the first time in 1996, while on a cultural tour with the Detroit Symphony Orchestra. At that time Lithuania had been an independent country for just six years. It declared itself an independent political state, free of Soviet Union rule. The Soviets seized the Baltic State 1939 and continued to control it after World War II.
Pasky saw the possibilities and in 1999 opened S3I (the I stands for international) in Lithuania. That country was chosen because of what it could offer S3. Being part of Pasky's heritage was an added bonus. Geographically, Lithuania could serve S3's customers in the Baltic and Nordic States and throughout Europe. The decision was a good one. As Lithuania developed as a country its fast growing economy and membership in the European Union and NATO allowed S3 to expand its customer support across Europe.
Originally, S3 helped Lithuanians find professional opportunities in Scandinavia and the U.S. After 2004, it re-oriented the business to attract foreign investors to discover and hire Lithuania's exceptional talent at home. S3 invested significantly in international promotion programs – often in partnership with Invest Lithuania – hiring and training a staff that could effectively promote Lithuania to S3 clients in the U.S. and the UK.
Today, S3I provides services to companies in the Czech Republic, Denmark, Estonia, Latvia, Poland, Russia, Slovakia and Sweden. The company offers its customers system development services, information technology (IT) consulting and staffing services and customized project solutions. In the past four years, S3I has placed more than 1,800 consultants with major companies in the region.
As it does with every community in which it does business, S3 is committed to helping Lithuania move forward. Following are several examples of the company's contributions to Lithuanian business, science, arts and culture:
In 2012 agreed to serve as the founding chair of the American Lithuanian Business Council; other Council members include Chevron, Western Union, ThermoFischer Scientific, Exelon and Philip Morris International
Regularly partners with the Ministry of Foreign Affairs and the Embassy of Lithuania in Washington, DC, as well as the U.S. Embassy in Vilnius, on a variety of public and civic affairs programs
During the past five years brought young Lithuanians who left for work abroad back to Lithuania for career opportunities with clients in Vilnius and Kaunas and has recruited Lithuanians from seven different countries and regularly sponsors recruitment events and activities outside of Lithuania – from London to Copenhagen to Chicago and beyond
Invested significantly in international programs – often in partnership with Invest Lithuania – to promote Lithuania to S3 clients in the US and the UK
For the last five years has been the leading sponsor of the American Baltic Celebration annual awards gala in Washington, DC
Was the largest private company (financial) sponsor of the American Chamber of Commerce-supported US Trade Mission to Lithuania
Is the lead sponsor of the ExCel High School Exchange program, which brings Lithuanian students to the US to study for one year
Helped establish innovative professional training programs, such as the Mainframe Academy designed by an S3 client with Vilnius University, to provide skills and jobs to students willing to learn a specialized and high-demand skill
Supports a series of World Music performances, including American performers and others, for its third season in 2014.
Has been a leading sponsor of the opera in Vilnius
Is a major donor to an orphanage in the town of Pabrade, providing financial support and volunteer days by staff
These accomplishments and contributions were the reason Pasky, S3's president and CEO, received the Global Lithuanian Award for Attraction of Investments in 2013 from the Global Lithuanian Leaders (GLL) in early January.
"Cynthia Pasky is directly responsible for significant achievements in attracting foreign investment to Lithuania, creating a positive brand for Lithuania in the world, and educational and professional development of Lithuanian talent," said Kotryna Stankutė-Jaščemskienė, director of Global Lithuanian Leaders. "She and her company have been passionate and steadfast champions of Lithuania in the world. They have earned huge respect in the local business community and with the prominent leaders who nominated her for the award. GLL is more than happy that the Global Lithuanian Awards created the opportunity to acknowledge and reward Cynthia Pasky and other global Lithuanians for the promotion of Lithuania in the world."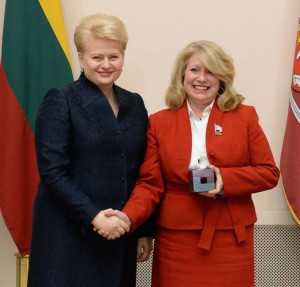 President of Lithuania Dalia Grybauskaitė (left) with Strategic Staffing Solutions CEO Cindy Pasky (right)
That commitment earned Pasky and S3 significant stature among Lithuanians and Lithuanian business. The award was presented to Pasky by the President of Lithuania Dalia Grybauskaitė for the contributions she and S3 have made to the development of Lithuanian business, science, arts and culture.
"It is indeed an honor to receive this award, but it is not about what I have done," said Pasky. "It is about what the S3 team has done not only to further our business in Lithuania but also to give back to the Lithuanian community."
Not content to just say thank you, each year, Pasky brings the entire S3 International team from Lithuania to Detroit for a week of training and development…and a traditional American Thanksgiving dinner, which she prepares personally and serves to the team in her home.